At Pennington Golf Club
PLEASE NOTE: Junior sessions are run on alternate weekends with competitions at the moment, we plan to re-introduce a midweek session in the near future.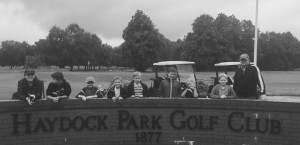 Pennington Golf Clubs junior day out at Haydock Park Golf Club on 22/08/16
This year sees the return of a full time junior section to the club, Our junior section organisers Daniel Moore and Joe Greenhalgh, as trained coaches will be working with the juniors through the summer running a midweek coaching session and then a second session at the weekend with the option of further coaching sessions or on course competition as the section develops.
What are the benefits of being a junior member at Pennington?
- Free sessions for all junior members,
- PGA Professional guidance plus optional One to One coaching,
- An official CONGU handicap,
- Fun and educational games and activities,
- Competition Golf for all abilities.
- Social evenings and Prizes.
ALL FOR £15 PER YEAR!!
Schedule
Please see Junior Fixtures for Competition Dates, Practice sessions will be held the weekends that the comps are not on down at the course.
Please Note: If you wish your child to attend any of these sessions please book on via our online booking or by contacting Daniel Moore. Please do not show up with out booking because if we do not have confirmed numbers the session may be rearrange or cancelled. also times may change due to popularity and weather.


The club accepts junior members from the age of seven all the way up to seventeen (18 and over qualify as a full adult member) and of all abilities, and as our junior section is growing we are continually looking for ways to get children more involved in golf, so if you think your child would be interested feel free to give one of our junior section organisers a call, we do offer a one session taster session, so you can make the decision if your child enjoys it.
Contact
Daniel Moore – 07702111808
Email – penningtongolfclub@blueyonder.co.uk